How to prepare for logical reasoning for CAT 2023?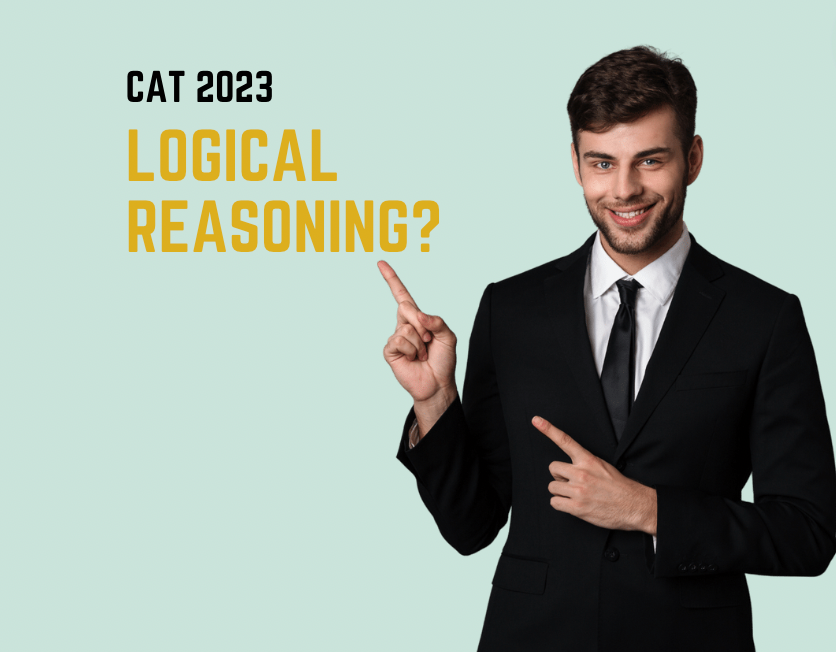 Logical reasoning is the combination of two,
One that is mathematics
Second, that is one's logical sense
We, many times, might have experienced using logical reasoning while doing our daily chores. Take for example two things are mentioned about a particular situation, but certain information is missing. In such a situation, you will have to go through the same and take hints from the things mentioned to track the most accurate possibility using mathematical references.
The (tentative) syllabus of the CAT 2023 is:
Assumption
Input-Output
Linear and matrix arrangement
Logical Reasoning based on Rankings
Logical Sequence
Premise
Puzzles
Quantitative Reasoning
Rows
Seating Arrangement
Series
Set Theory, Venn Diagrams, Network Diagrams
Syllogism
Team Formation
Clocks
Conclusion
Critical Reasoning
Cubes
Direction sense and Decision Making
Graphs
Binary logic
Blood relations
Calendars
Click here to get e-books for CAT preparation on Calibr.
CAT is a compulsory entrance preparation for IIMs MBA and has a fixed format of examination every year. It is not just important but very very beneficial for the upcoming MBA curriculum. Before CAT 2023 you will first must know all the small information that an aspiring candidate should know.
In case you sit for solving the question with a long formula, just know you are on the wrong track. It is not about long and difficult formulae, rather it is about thinking out of the box as well as dedicated and consistent practice.
The number of questions in the Logical Reasoning portion is 16.
The question has two categories -
1. Multiple choice questions (12)
2. Non multiple choice questions (4)
Total marks for the logical reasoning portion is 48 in CAT. It comes with negative 1 marking for every wrong answer and +3 marking for every correct answer.
If you go through the entire syllabus of CAT 2023, you can say that the Logical Reasoning portion has been combined with very limited topics and with specific concepts. If you apply usual human logic and subtle reasons of patterns, alignments, number, framework. CAT 2023 is not something that you will crack by thinking hard. Rather you will have to think again, and again, and again to not just know one way to understand your answer. If you will have considered all possible and impossible answers, that is when you will find your answer.
Practice is your go to tool to understand the correct way of thinking all the "how to" and "what to"
Tips to enjoy the process of learning Logical Reasoning:-
Reading- Go through books on Logical Reasoning that help you understand the root of the subject. Books that help you understand shapes, lines, patterns, questions based on set theory, cubes and verbal arithmetic, linear/circular seating .
Go through the syllabus to understand the types of questions from each topic. Practice topic wise so that you can analyse what you are good at and what you will have to get better at.
Constantly work on every topic, especially the ones that you are weak at. The more you practise those, the more you will realise different ways to understand the point that you are missing out on.
In CAT 2023 we suggest you to go through Reference books to come to an understanding of the Logical Reasoning portion of CAT 2023
Previous year question banks and mock questions are what will give you an insight on the alignment and type of questions that you will have to attempt on your CAT 2023. For example, we have the Oswaal CAT 24 Years Solved Papers (For 2023 Exam) just right on our website that gives you the in and out of the questions and the references that you will need to prepare for CAT 2023.
Understand the question very well to understand the solution, because at times the answer might be hidden in the question itself.
You can make the process of learning fun by trying out brain teasers. This gives you the knack of Logical Reasoning and how fun it can be.
The portion of Quantitative Aptitude has topics like:
Profit and Loss
LCM and HCF
Percentage
Time, work, Distance and Speed
Ratio and proportion
Quadratic equation and Linear equation
Mensuration
Geometry
Trigonometry
Mixture and Alligations
Permutation And combination
Set theory and Function
Surds and indices
Probability
Inequalities
Sequences and Series
Logarithm
Simple and Compound interest
Complex numbers
Averages
DATA Interpretation and Logical Reasoning Syllabus:
Caselets
Bar graphs
Line Charts
Logical Connectivities
Column Graphs
Syllogism
Venn Diagrams
Logical Sequence
Pie Chart
Logical Matching
Other Basic Reasoning Questions
Binary Logic
Calendars
Seating Arrangement
Number and Letter Series
Clocks
Blood Relations
Verbal Reasoning Syllabus
Vocabulary Based
Fill in the blanks
Sentence Correction
Cloze Passage
Jumbled Paragraph
Meaning-Usage Match
Analogies or Reverse Analogies
Summary Questions
Verbal Reasoning
Facts-Inferences-Judgements
Reading Comprehension
While preparing for Logical Reasoning in CAT 2023 you will have to keep one thing in mind, that is, Logical Reasoning is all about common sense+aggressive practice of various questions. When we say various questions it means questions with various possibilities, where every next possibility takes you closer to accuracy.
Basics when solving a Logical reasoning question:
In a particular question or situation there will be multiple references given to understand the accurate answer of it. It has to be noted that all references are not important or rather all information are not references either.
Observe the situation, or the pattern that has been presented in front of you to understand the most relevant obviousness. Observe if all the information is directing towards a similar direction or an alternatively similar direction. Knowing the question is very necessary before starting the process of attempting it.
Why again we suggest practising again and again before the CAT 2023 examination is to develop time management skills. Spending more than required time on one question is not favourable, especially if you feel the other questions can turn out to be more time consuming. Once you are into practising, you will know the better way to solve a question every next time.
Again, when we say practise it does not mean taking the tests multiple times, and you are ready! It has to be a gradual learning process so that you take all that you have learned to understand patterns and alignments in the best way.
If a group of symbols are given at one place, it does not mean you will have to see all of them together. You will have to separate them in common boxes or lines or categories and then align.
CAT is organised by IIMs and is the MBA entrance test for 20 IIMs, FMS, IITs' MBA, MDI, SPJIMR, IMI, IMT and 3000 other MBA colleges. So just in case you have second thoughts about it, we would say it nothing but only opens great doors to you.
Once you practise the key rule of Logical Reasoning, you will turn out to be a bit more confident when you sit for practising everytime. You will know the tricks of solving a particular problem and nothing will come to you as a surprise.
Good Luck with your CAT 2023 examination and with your firm determination it is just another milestone to get done with.
Related Blogs