How to Build Customer Training Academy in 2024 for B2B SaaS Businesses
As a B2B SaaS business, building a compelling customer training academy is the key to empowering your clients, boosting their satisfaction, and ultimately driving growth. And it is no longer just an option – it's a necessity.
A well-designed and thoughtfully executed customer learning academy is a game-changer for your organization.
And when looking to create a customer learning academy for your business, it is natural to have many questions.
How to build a customer education academy for your B2B SaaS business?
How can your business benefit from it?
And what are some leading examples you can learn from?
And more.
That's why, in this blog, we answer all these questions to help you start building your customer learning academy confidently.
What Is a Customer Training Academy?
A customer training academy is an educational system designed to train customers to become proficient users of your products, solutions, or services. Training customers is essential for every B2B SaaS business as the training empowers them to use the product properly.
A customer education academy aims to improve product adoption, customer retention, and product advocacy. Businesses that value their users and want to bolster the quality of their relationships often have a customer learning academy.
Adequate customer training also increases the customer lifetime value, which is imperative for all B2B SaaS businesses.
Step-by-Step Process to Build a Customer Training Academy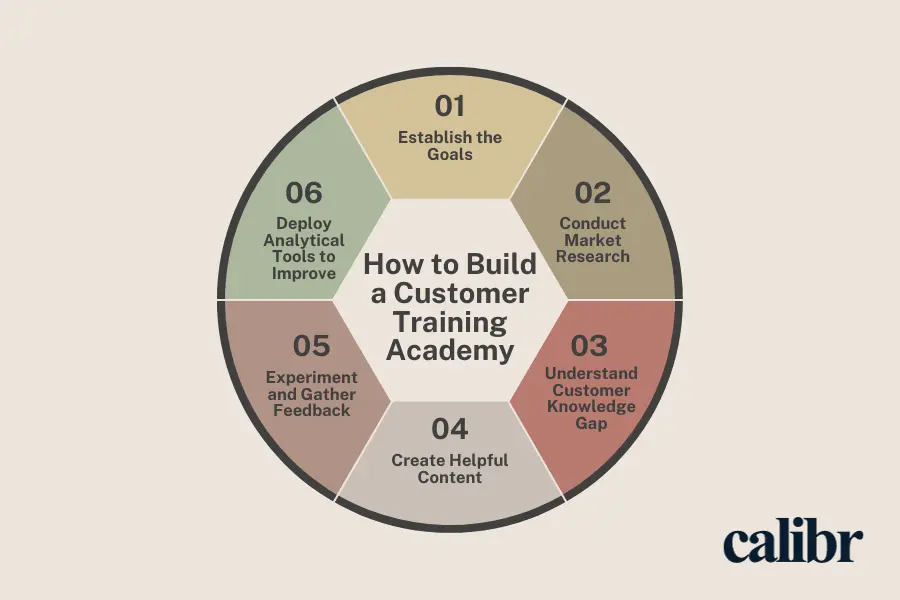 Building a customer training academy requires the utmost care and diligence. Your aim is to create reliable resources that customers can use whenever they need them.
Here is how you can do that.
Establish the Goals
Ask yourself this question—why are you establishing a customer education academy? You will find many answers to the question.
One of them could be to help customers understand your product and services better. Another reason could be to improve the customer satisfaction levels. It could also be to reduce customer churn or to make employees more knowledgeable.
These answers are the goals you need to meet. Once you understand them, it will be easier to define the academy's structure and create content to meet these goals.
Conduct Market Research
Understand what others are doing. By others, we mean businesses that are already using customer training strategies to make an impact in their industry.
Learn their approach, what types of customer training software they use, how the strategy is helping them, and so on. The research helps you fine-tune your strategy, adopting what's already working and discarding what no longer works.
And, of course, you also need to study your competition to gain industry-specific insights.
Understand the Customer Knowledge Gap
Now, you need to understand the customer knowledge gap. This is the difference between what customers actually need and what you perceive they need. You can understand this gap through surveys, feedback, etc.
Optimize your customer training academy to meet the exact needs of the customers once you understand the knowledge gap.
This understanding is also going to dictate the type and structure of the content you are going to create to train the customers.
Create Helpful Content
Now is the time to create content for your academy based on the goals and customer pain points. You can create a content strategy to build the content and optimize it to serve the customers better.
Establish a team of product specialists and instructional designers to create courses, bite-sized learning content, videos, case studies, and certification programs for the academy.
You can also use an efficient customer training LMS to manage the content.
Experiment and Gather Feedback
As you establish your academy, try to understand what types of content are performing well, how the customers are responding, etc.
Gather reviews and feedback from the customers. Send surveys to your customers and understand what they think of the academy.
You may also speak to them to learn about their experiences and the changes they would like to see. The knowledge you gain from this will help you improve the academy.
Deploy Analytical Tools to Improve
Many businesses create customer training programs but leave them at that. They publish new content regularly but fail to go back and understand how the users like it.
Do not fall into this pitfall, even if you grow beyond your expectations. It is when you grow you need to be more customer-centric.
Keep learning about your users' experience with the academy using analytical tools. Many customer training software solutions offer such tools. Utilize these tools to keep improving the content and user experience.
Why B2B SaaS Brands Need a Customer Learning Academy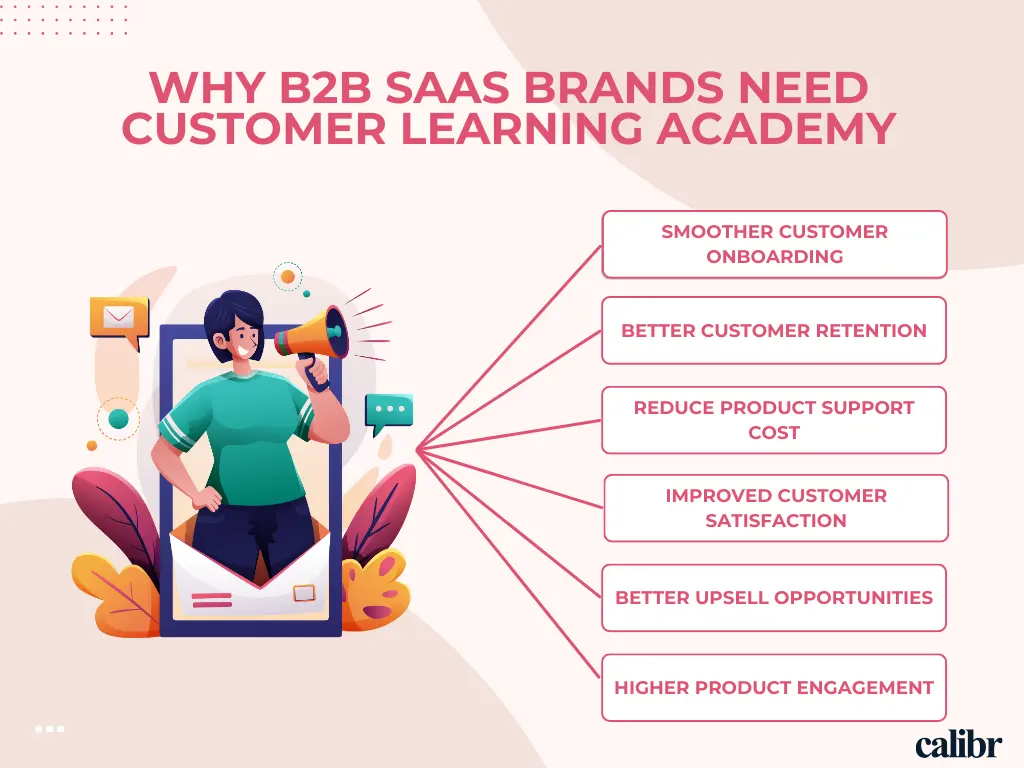 B2B SaaS brands require a customer training academy more than any other business. They need to educate their customers on how to use their products and services effectively. Their success depends on it.
Having a lot of features and tools does not bring any value if the customers cannot use them to their advantage. But that's not the only reason.
Here are a few reasons why B2B SaaS brands must build a customer learning academy.
Smoother Customer Onboarding
Customer onboarding is a crucial part of B2B SaaS sales. Most businesses offer trial periods for potential customers to check if the tool is worth investing in the long term. Even then, onboarding is never smooth, and poor onboarding is said to be one of the three reasons for B2B SaaS customer churn.
This is why your business needs to train the users and help them use the solution to its fullest potential. A knowledge academy that's easy to use and learn from helps potential customers understand what it's like to work with the brand.
And with better customer service and learning experience, potential buyers are more likely to stick with your brand even after the trial period.
Better Customer Retention
Most businesses leave B2B SaaS products because they find the product hard to use. Having a customer training academy helps solve this issue. As per Frederick Reichheld of Bain & Company, a 5% increase in customer retention causes a 25% increase in profits of B2B SaaS businesses.
You can create helpful videos and how-to guides to empower users to fully take advantage of the product. When customers have readily available resources to learn from, they will stay with you.
This leads to better customer retention rates and increased customer lifetime value.
Reduce Product Support Cost
Did you know that 81% of customers do not want to call customer service or product services? That's right, they want to solve the issues themselves. B2B customers also feel the same.
They do not want to interact with your customer service right off the bat when facing an issue. They will try to solve the issue themselves first. And having a great customer education academy can help customers resolve their issues themselves.
This results in reduced product support costs, as fewer agents may be required to provide customer service.
Improve Customer Satisfaction
With a robust customer training academy, customers will understand your product and its features in depth. This encourages them to use the solution to its maximum potential.
When they use the product more efficiently, they will gather better results and a higher ROI.
The customers who can generate more results with your products will remain satisfied and stay with you longer.
And that means more revenue for your business.
Better Upsell Opportunities
When you have a robust customer training system in place, the users can see the full value of the product. However, if they are not using the premium versions, they will know that they are missing out on a lot of opportunities.
As they already have a fruitful relationship with you, the customers are more likely to upgrade or buy add-ons from you.
And that adds to your revenue considerably.
Ensure Better Product Engagement
Having a well-designed customer learning academy also helps you improve your product engagement.
The more a business uses your product, the more it will be inclined to explore its features. This creates better product engagement and use. With more product engagement comes opportunities to sell upgrades and add-ons.
Your customers already have a great association with you, so they are more likely to convert than new prospects.
Examples of Top Customer Training Academies
Some of the biggest brands in the B2B SaaS industries have extensive and deep customer learning programs and academies.
If you are trying to build one, taking notes from the pioneers in the industry is always an advantage.
Here are three top customer training academies we think you must learn from.
HubSpot Academy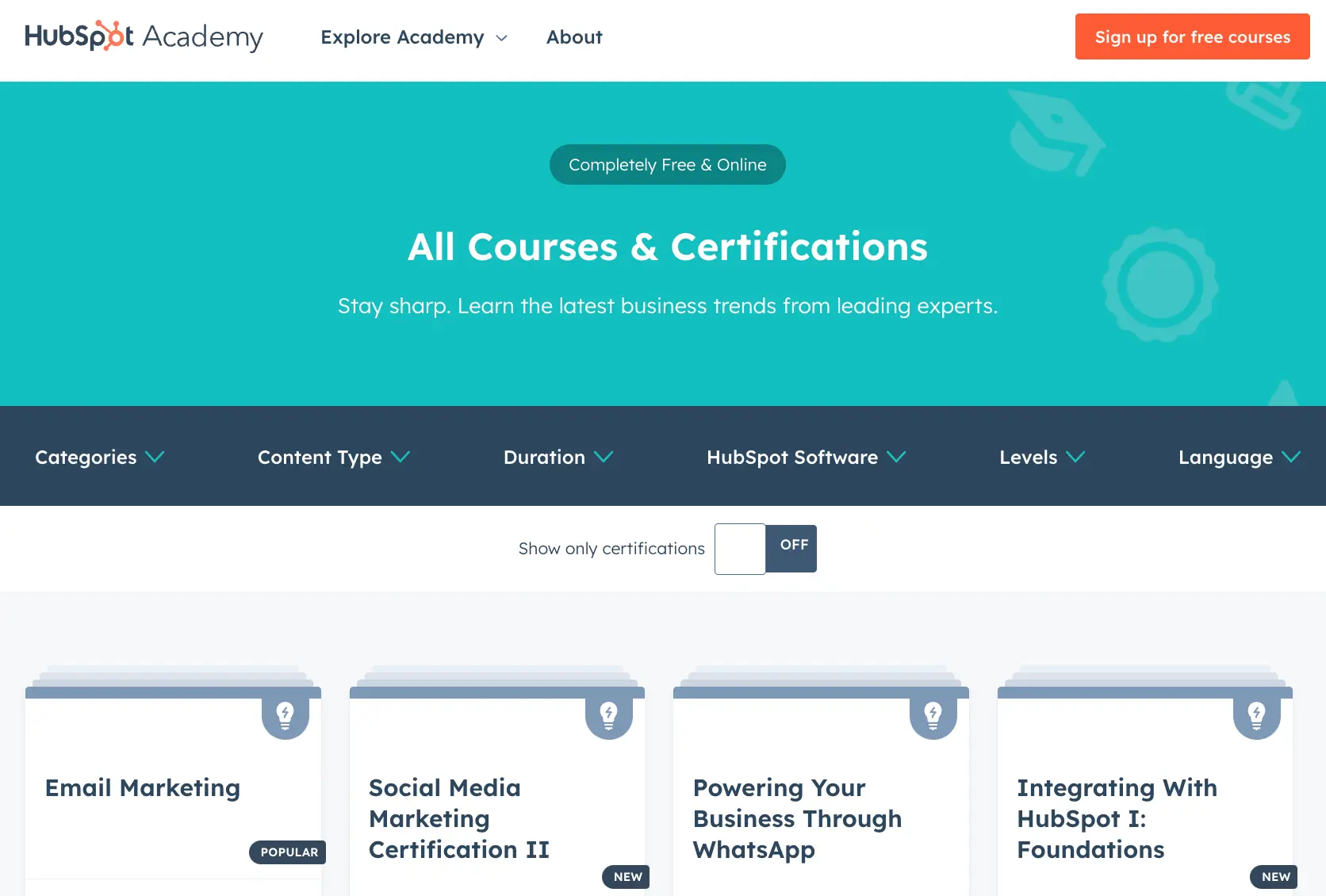 Website: Hubspot.com
HubSpot is among the world's leading B2B SaaS businesses, offering cloud-based tools for various business applications, such as marketing, sales, operations, customer service, and more.
It has an extensive range of customer education materials in diverse forms. From blogs to videos, ebooks, and courses, you can find everything you need to learn about their services in its resources section.
The robust customer training academy of HubSpot has played a huge role in its transformation as a leading B2B SaaS brand in the world.
Shopify Learn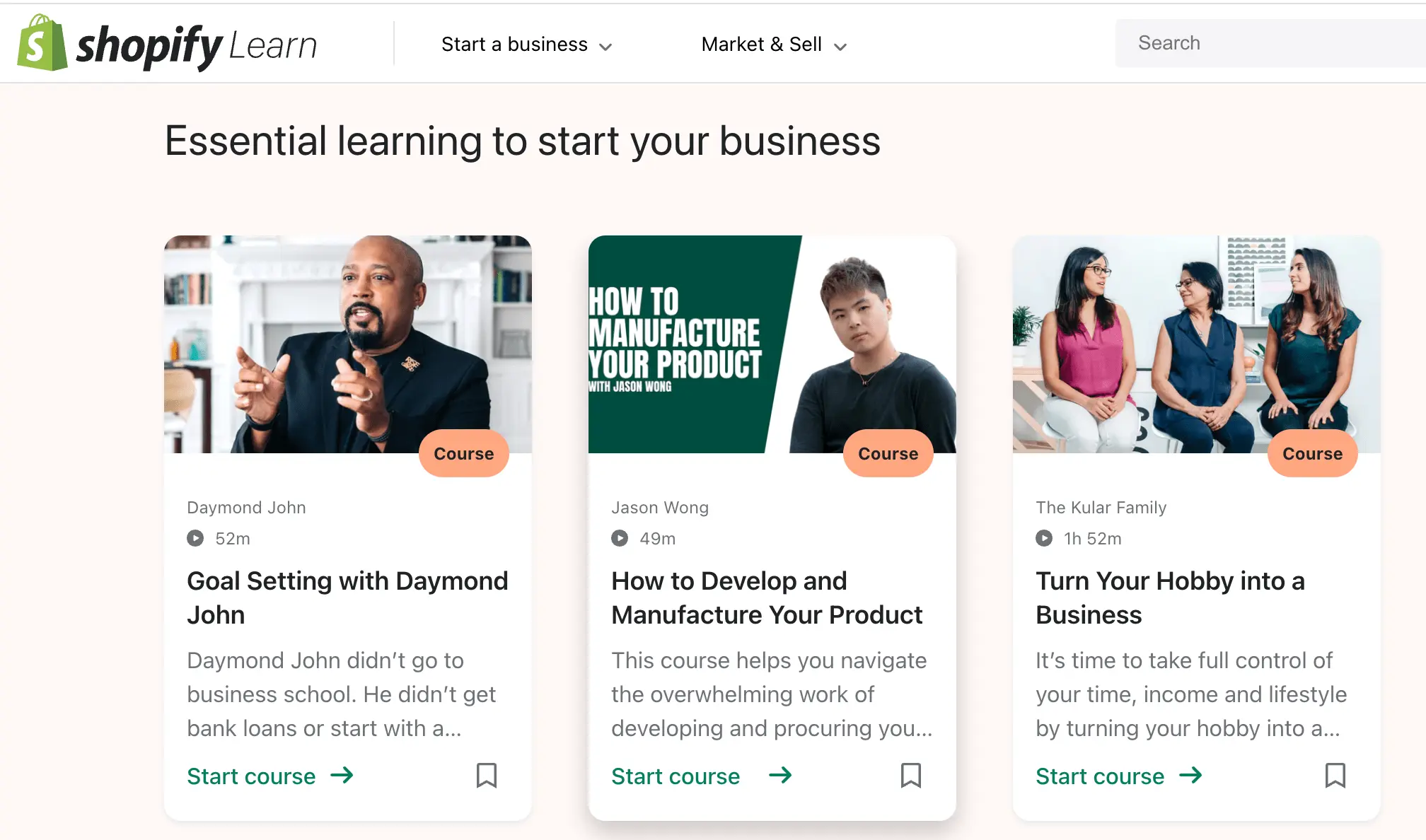 Website: Shopify.com/learn
There's quite no one in the business world who is unfamiliar with Shopify. It is the biggest ecommerce platform in the world. Shopify offers ecommerce platforms to build online stores for businesses of all sizes.
The academy is one of the most impressive ones in the field as it looks to educate its customers to use Shopify to its fullest potential.
The learning academy has everything a business needs to grow, from tutorials to guides and webinars.
Trailhead by Salesforce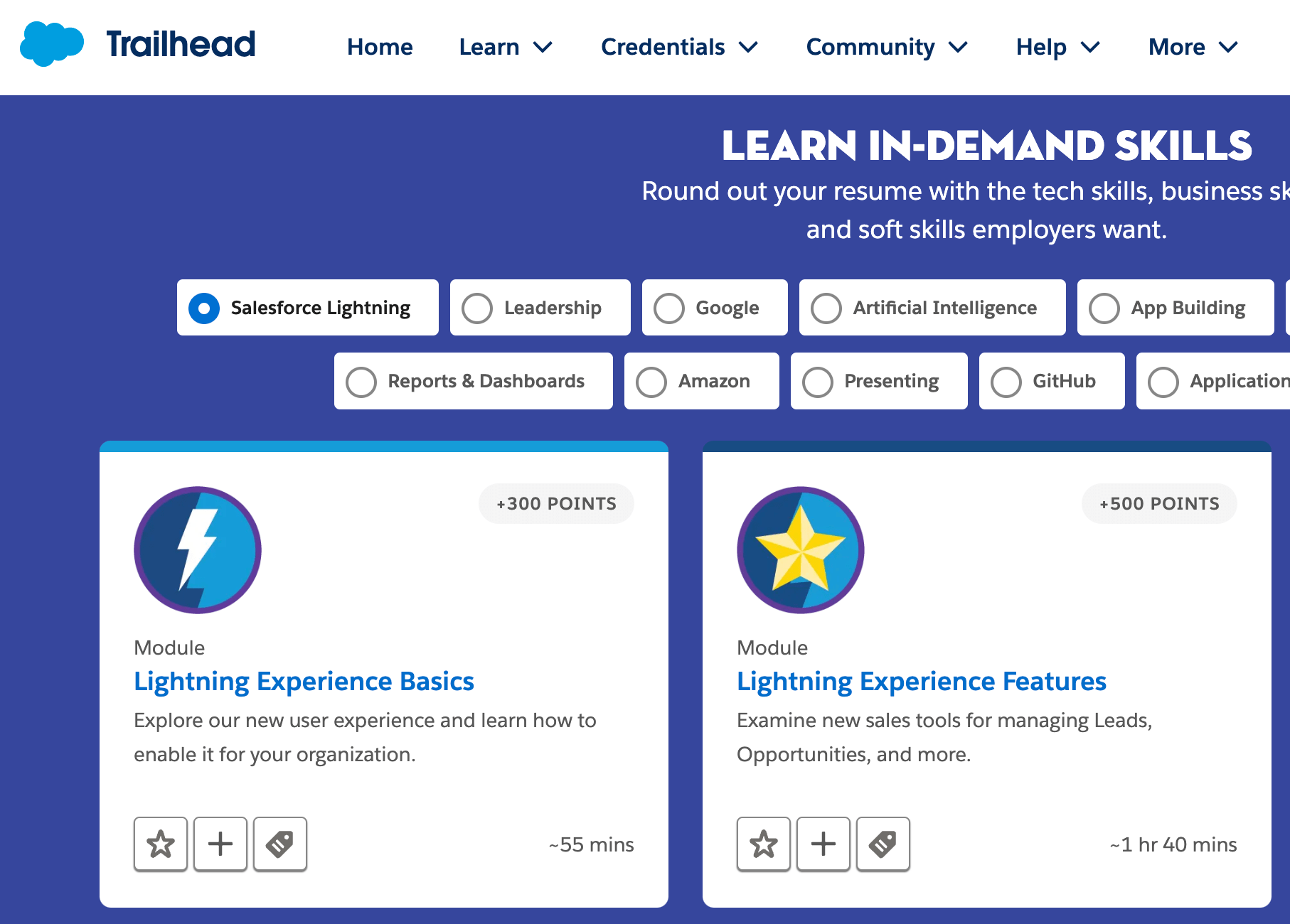 Website: Trailhead.salesforce.com
Like HubSpot, Salesforce is among the world's leading Customer Relationship Management platforms. It is used by diverse businesses around the world regardless of their size and scope of operations.
Their chief product offerings include solutions for marketing, commerce, sales, operations, and more.
The Trailhead Academy enables users to learn a plethora of in-demand skills in Salesforce and other areas, such as marketing, SEO, operations, etc., to grow their business.
Role of LMS in Customer Training Academy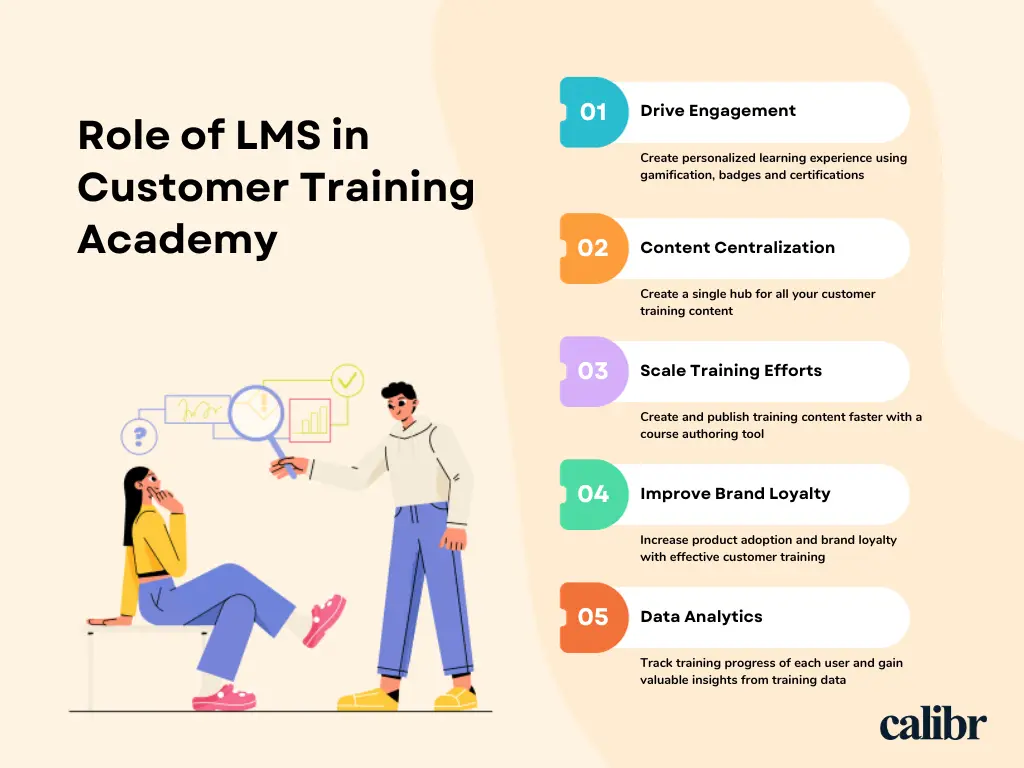 You have now seen why you should develop a customer learning academy and how you need to do it for better customer value. Now is the time to understand the role of an LMS in doing so.
In your efforts to create the best academy for customers, you must also ensure ease of management of the academy with customer training software. And that's where a customer training LMS comes into play.
Here is why you must use an LMS for efficient management of the customer learning academy.
Drive Engagement
An LMS enables businesses to build structured learning paths for users in a manner that's progressive and logical for the individual learner. This learning personalization drives more engagement from the users as the learning is tailored to their needs.
Further, it also incorporates suitable gamification elements like badges, points, achievements, etc. which motivates the users to actively involve themselves in the learning process as there is an element of fun and achievement tied to the learning process.
With the help of an intelligent LMS solution, you can also confidently create interactive courses and modules. Monitoring how your customers are using them gives you more insights into what's working and what's not.
And what's the result? You can shape your customer learning efforts more strategically.
Content Centralization
An LMS is your best option for centralizing the content. It enables you to bring all the content onto a unified platform.
Your blogs, videos, ebooks, whitepapers, case studies, etc., can be organized into a single hub. An LMS also streamlines creating detailed courses with different modules.
Or you can create smaller, bite-sized learning nuggets that cater to one specific issue at a time.
Both these approaches empower your users to find the resources they need quickly under the same roof.
And with an LMS, doing this becomes easy, organized, and, more importantly, efficient.
Scale Training Efforts
Every business wants to grow. Along with your business, the training efforts also must grow. An LMS can accelerate and scale the training efforts. With the help of a robust LMS, you can create fresh content and publish.
You can also leverage the power of AI to improve course authoring for faster resource development and publication.
Improve Brand Loyalty
An effective customer education program improves brand loyalty. It makes the customers understand that the brand cares about them and how they use the solution well for better business results.
According to a thought leadership paper study by Forrester commissioned by Intellum 90% of businesses have observed higher ROI after investing in customer education. With adequate customer training, you can improve your key growth metrics, which drives profound top-line business results.
An intelligent LMS can help you achieve this effortlessly.
Data Analytics
Analyzing the content and how the audience reacts to your customer education content helps you plan your strategy better.
You must analyze the data from the customer education academy to understand where the engagement in the academy is higher. And what causes it.
What type of content are they using? What are they not using? How much time do they spend on the platform?
An LMS can help you analyze customer education and drive insights to supercharge the learning. You can monitor micro and macro progress tracking for better insights and report generation.
If you are looking for the best LMS software for customer training, you may like to read our blog: 9 Best LMS Software for Customer Training and Education
Conclusion
You need to treat your customer education academy as a business growth machine. It helps the customers find solutions for their pain points, which improves how they use your product and, ultimately, their results.
However, a robust customer training LMS is crucial to the success of the learning academy. It helps maximize learning outcomes and facilitates better management.
And if you are looking for a reliable LMS, Calibr is your best option. With easy, AI-powered course authoring, deep analytics, and user management capabilities, Calibr helps you effortlessly manage the learning academy.
Book a free demo to learn how you can build your customer training academy.
FAQs – Frequently Asked Questions
1. What's customer learning or education?
Customer learning is the process of educating or informing customers about your product or services and how to use them effectively. This also enables the customers to troubleshoot and solve issues by themselves.
2. Why should I have a customer learning system for my B2B business?
As a B2B SaaS business, you need the customers to use the product to its full potential to generate business. That's how you help them grow their business, which you can use as leverage to grow your business.
3. How do I build a customer education academy for my business?
You can launch a customer learning academy with the help of an LMS or Learning Management System. The system lets you publish and manage content as well as all functionalities of the academy for a better user experience.
4. How can I assess the success of my customer learning academy?
Most of the LMSs in the market have diverse analytical tools to track engagement, course completion, time spent on the platform, etc. Based on these metrics and user feedback, you can measure the academy's success.
AI powered Course Authoring
Unlock the future of e-learning with Calibr
Robin Vince George
A B2B writer with more than six years of experience creating in-depth content for businesses. He started writing when he was very young. Now he writes insightful articles and blogs to help businesses connect better with their audience. When he is not writing, he loves to solve puzzles (Not sudoku).